Environmental groups push to replace diesel buses with electric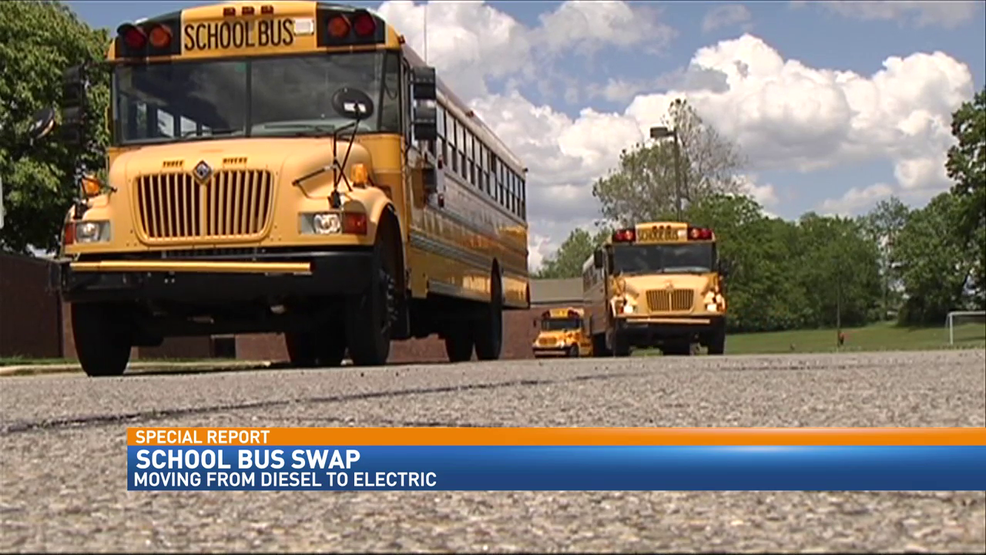 THREE RIVERS, Mich. (NEWSCHANNEL 3) - Most of West Michigan's school buses have made their final runs for the school year, but could it be the end of the road for the iconic diesel buses?

Environmental groups want to replace the big yellow, diesel-burning buses with electric buses.
The replacement won't be cheap, either, making it a hard sell for already cash-strapped districts.
Newschannel 3's Chief Meteorologist Keith Thompson found out that one of the world's biggest car-makers may help schools foot the bill.
At the end of a typical school day, about a dozen buses line up in front of Three Rivers High School and Middle School to take students home.
As those buses sit idling while loading, they pump dangerous exhaust into the air.
Margrethe Kearney, an attorney with the Environmental Law and Policy Center Grand Rapids, said, "My 6-year-old, no matter where she goes to school in the state of Michigan, shouldn't have to stand in line waiting to get on the school bus breathing in dirty, diesel exhaust."
But that's the way it is now in Michigan, as all school buses are powered by diesel engines.
Changing to electric buses may be healthy, but it isn't cheap. A new diesel bus costs about $100,000 and a new electric bus, $300,000.
Kearney represents one of several groups asking Michigan to use some of the $60 million it is getting from the $14 billion Volkswagen settlement with the federal government to help schools buy electric buses.
She said, "Every kid in the state of Michigan should have the right to get to school without being exposed to the exhaust coming out of diesel engines and polluting the air around them. So, we really think it's a great way to use the money effectively to the benefit of districts, but also to protect the health of our kids."
The Three Rivers School District is one of a handful in the state that want to be first in line to make the change from diesel to electric, if the money comes through to help pay for it.
Three Rivers Schools Transportation Director Tammy Hanstine said, "I think it's a good way to move forward for the state of Michigan, as opposed to staying with diesel. I think electric school buses are the wave of the future."
Though the state knows how much money will be coming from the settlement, there's no plan for allocating those funds.
Until that plan is figured out, schools don't know if any money will be available for buying electric buses.
Unmute